Marquage des rennes – Laponie- from Laponie Mush on Vimeo.
Cet hiver nous avons eu la chance de faire la connaissance d'une famille de 3 frères éleveurs de rennes et d'être convié au marquage des jeunes en Juin.
Le rendez-vous était pris mais la date encore inconnue.
Chaque année, les éleveurs de rennes regroupent leurs bêtes afin de procéder au marquage des nouveaux nés.
L'événement commence généralement vers le 21 Juin et dure environ 2 semaines, mais la date est décidée à la dernière minute, selon la météo.
Jeudi 23 Mai 18h
Et voilà c'est le jour J. Nous sommes en plus en bonne compagnie cette semiane : Magalie et Fabrice, nos 2 volontaires pour l'hiver prochain sont là !
Après 1 h de route, au fond d'une route forestière nous retrouvons Johan et Patrick Lundgren, 2 des 3 frères, accompagnés d'une dizaine de personnes.
Tout le monde patiente. L'hélicoptère qui aide à rassembler le troupeau à 2 h de retard …
This winter we had the chance to meet 3 brothers, herders of reindeers and be invited to the marking of the calves in June.
The appointment was made but the date still unknown.
Every year the reindeer herders gather their animals in order to make the marking of newborns.
The event usually starts around June 21 and lasts about two weeks, but the date is decided at the last minute, according to the weather.
Thursday, May 23 18h
And this is the D-day. We are also in good company this week : Magalie and Fabrice, our 2 volunteers for next winter are here !
After 1 hour of drive, we find Johan and Patrick, 2 of the 3 brothers with other people.
All wait. The helicopter that helps to gather the herd is 2 hours late …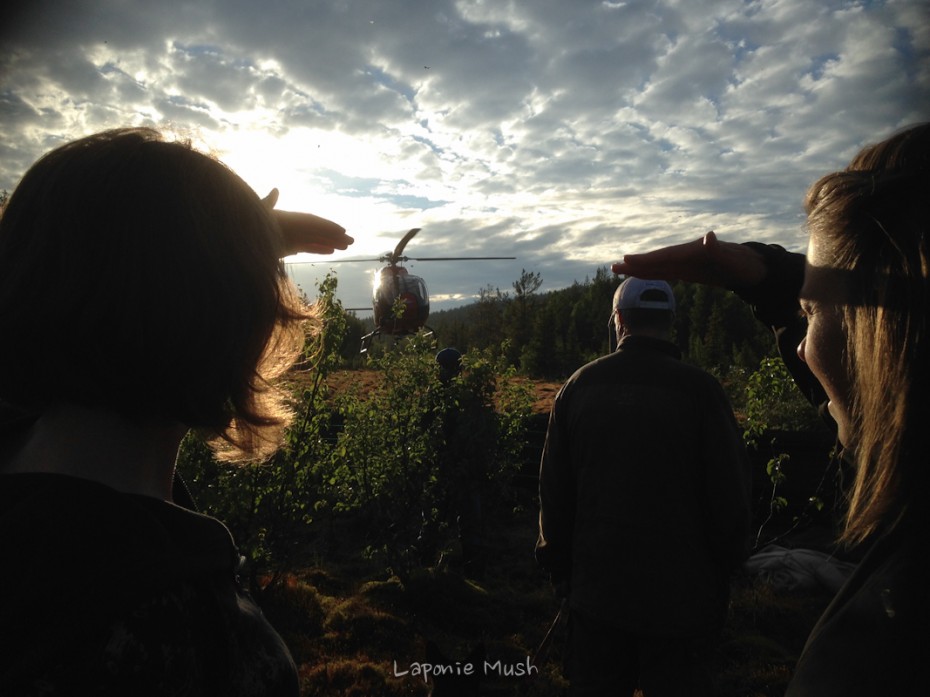 La collecte des Rennes est loin d'être évidente. Il faut faire appel à un hélicoptère privé, qui se charge de repérer le troupeau et de le conduire à bonne destination (dans un enclos prévu a cet effet) avec l'aide au sol de plusieurs quads et motos.

The collection of reindeer is far from easy. It is necessary to use a private helicopter, which is responsible for locating the herd and lead it at the right destination (in a dedicated enclosure for this purpose) with the help of several quads and motorcycles on the ground.
 20h
L'hélicoptère arrive enfin. Martin, le 3ème frère Lundgren, prend place à côté du pilote. C'est lui qui sera en contact radio permanent avec l'équipe au sol. Au même moment, quads et moto démarrent.
Nous patientons encore.
The helicopter finally arrives. Martin, the third brother Lundgren, sits next to the driver. It is him which is in permanent radio contact with the ground crew. Meanwhile, quads and motorcycle start.
We wait again.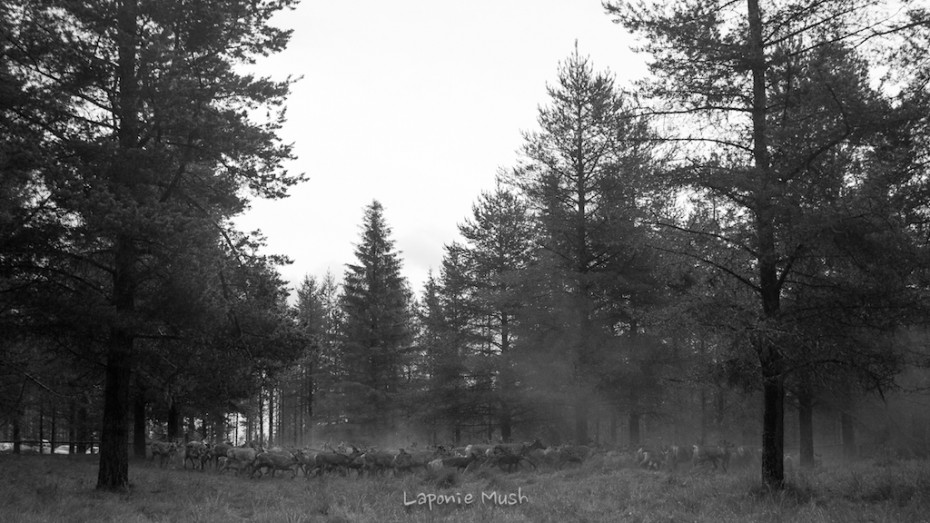 21h
Ca y est, ils sont en approche vers le parc. Direction au pas de course vers le marécage, on traverse le grand enclos encore ouvert dans le fond puis on s'arrêtent sur le côté droit. Une autre équipe s'est postée en face sur le côté gauche.
Nous sommes tapis au sol, plus un bruit afin de ne pas effrayer les rennes lorsqu'ils arriveront.
On patiente, les moustiques sont avec nous mais on a prévu la dose de produit. Nous sommes invincible ce soir. L'attente dure encore quelques minutes.
Puis le coeur s'accélère … On entend au loin la sirène de l'hélicoptère, le bruits des moteurs et …des pas, des cloches. Ils arrivent !!!!
Une grosse masse s'avance au loin et nous passe rapidement devant les yeux.
Novices, on suit le mouvement. Tout le monde court, alors nous courons. Les rennes sont devant nous, suivit des engins et nous refermons la course.
On comprend alors que l'enclos construit exceptionnellement cette même journée, doit être terminé pour être fermé. Poteaux, grillage, bâches, tout le monde s'afférent à sa tache dans un calme impressionnant et l'enclos est terminé a une vitesse impressionnante.
On participe comme on peut, encore essoufflés et surtout impressionnés par ce spectacle.
They are approaching the park. We run toward the swamp, cross the large open enclosed and then stop on the right side. Another team wait in front of us on the left side.
We are carpet floor, no more noise to not frighten the reindeer when they arrive.
We wait, mosquitoes are with us but we expected the dose. We are invincible tonight. The wait still lasts a few minutes.
Then the heart is accelerating … We hear in the distance the siren of the helicopter, the engine sound, footstep and bells. They arrive !!!!
A large mass walks off and quickly pass in front of us.
Novices, we follow the movement. Everyone runs, then we run. Reindeers are before us, followed by the machines and we close the race.
We now understand that the enclosure built exceptionally that day, must be completed to be closed. Poles, fence, tarps, everyone works to its task in an impressive calm and the enclosure is finished in an impressive speed.
We participates as we can, still breathless and especially impressed with this show.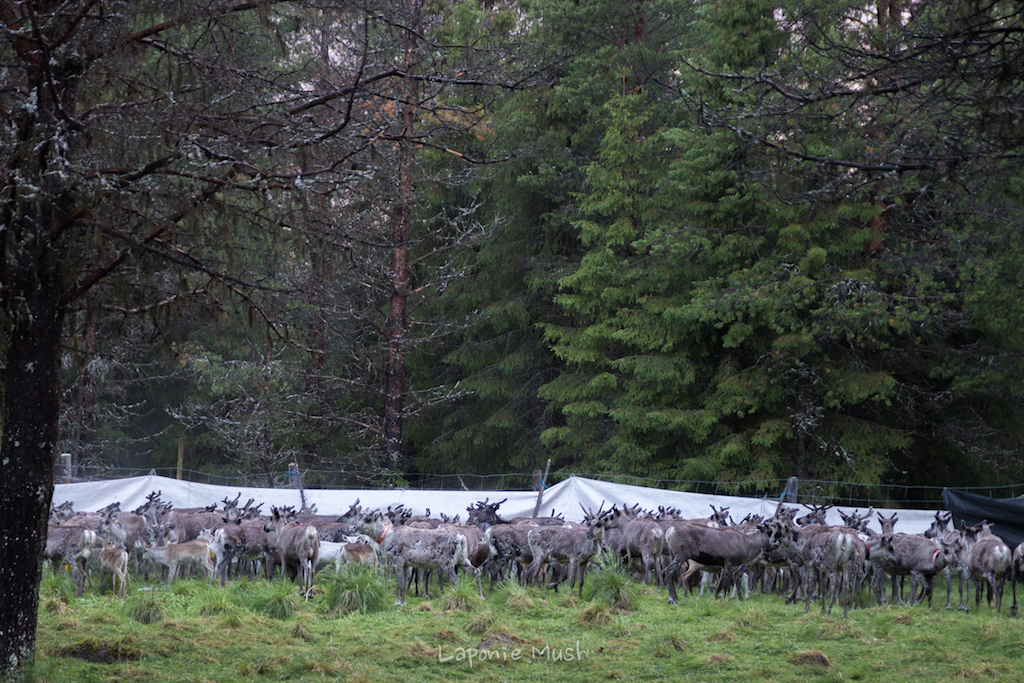 Prochaine étape : Attraper les faons et les munir d'un collier numéroté
A laide d'une perche munit d'un lasso, le geste consiste a attraper le faon par les pattes, avant ou arrière peu importe.
Bon ça a l'air facile a en croire les gamins de 10 ans gagner 1 fois sur 2, mais on se doute que ca doit demander un peu d'entrainement.
Mag et moi on s'est plutôt contentées d'accrocher les colliers numérotés a leur cou. Plus dans nos capacités !
1 heure plus tard, tous les jeunes portent un numéro.
Next step: Catching calves and provide them a numbered collar
Using a pole provides with a lasso, the gesture is to catch the fawn by the legs, front or back.
Well it looks easy to believe the 10 year old kids win 1 in 2, but we are sure that it should request a little practice.
Mag and me has rather been content to hang numbered collars to their necks. More in our abilities !
On fait quoi maintenant ?
Il va maintenant falloir patienter 2 heures pour laisser les rennes se reposer, mais surtout pour permettre aux mamans et aux petits de se retrouver.
What do we do now ?
We will now have to wait 2 hours to let the reindeer a rest, but especially to allow mothers and calves to get together.
Comment font ils ??
Chaque faon émet un son unique que la maman reconnaît.
How do they do ??
Each fawn emits a unique sound that the mom recognizes.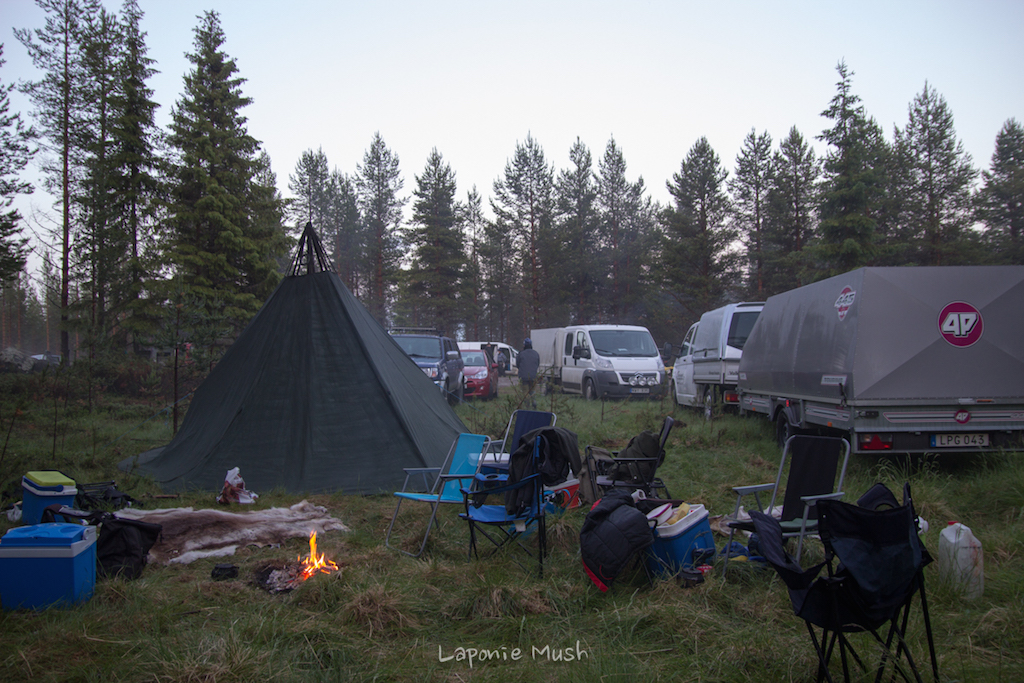 Ces 2 heures sont l'occasion de se rassembler autour du feu, de faire couler le café a flots et de casser la croute. Mais c'est aussi pour eux un grand moment de partage. C'est les vacances scolaire et adultes comme enfants sont de la partie.

These two hours are an opportunity to gather around the fire, drink coffee but it also gives them a great time of sharing.
It's the school holidays and adults as children are of the game.
 
Les mini quads et moto vrombissent … Ça n'arrête pas et on comprend alors leurs facultés, si jeune, a conduire ces engins dans n'importe quel terrain.
Tous ont une chaise et de quoi manger, alors que notre unique bouteille d'eau est vide.
Pour être honnête, on se sent un peu ridicule. La prochaine fois on fera mieux !
Nous décidons donc de reprendre la route.
On se retire poliment en les remerciant pour ce moment passé, et on promet de revenir pour voir la totale.
Il fait jour, le soleil se couche ou se lève … on ne sait plus trop. On croisera un renard, et des rennes.
Mini quad and motorcycle hum … It does not stop and we understand now their abilities, so young, to drive these vehicles in any kinf of terrain.
All have a chair and something to eat while our unique water bottle is empty.
To be honest, it feels a bit ridiculous. Next time we will do better!
We decide to hit the road.
We retire politely thanking them for this moment, and we promise to come back to see the final.
It is daylight, the sun sets or rises … we don't really know. We will meet a fox and reindeers.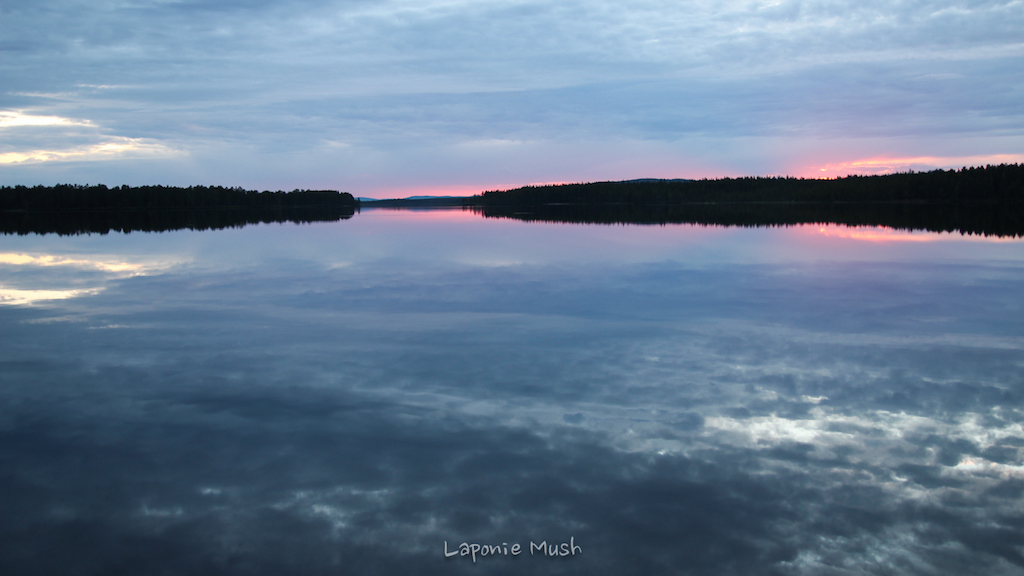 Sur la route, pose photo oblige. Ce lac est magnifique.
Arrivée à la maison à 1 heure du matin. On a bien mérité un chocolat chaud et du beurre de cacahuète.
Avec un mélange de fatigue et d'excitation, les yeux se ferment avec des rennes pleins la tête.
On the road, picture obliges. This lake is beautiful.
Arrived home at 1am. We well deserved hot chocolate and peanut butter.
With a blend of tiredness and excitement, the eyes close with the head full of reindeer.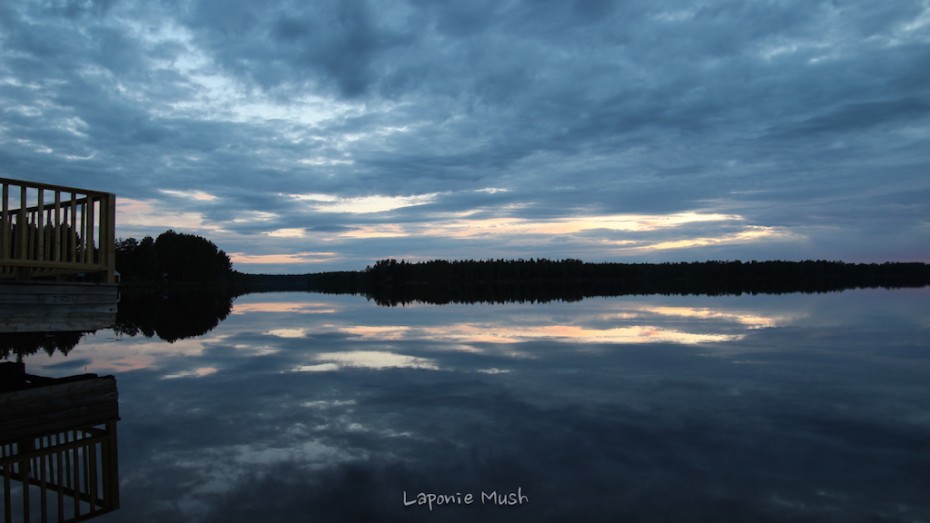 Lundi 27 Juin 18h
Sms de Patrick : Les Rennes seront rassemblés ce soir. Départ de l'hélicoptère vers 20h.
OK, ca nous laisse 1 h pour préparer les thermos, les bottes, mettre de l'eau au 28 chiens et de chercher l'itinéraire.
Ce soir de fortes pluies accompagnent les éleveurs dans leur travail, forçant même l'hélicoptère à faire une pause. Mais heureusement le vent chasse les nuages et à 21h tous les Rennes sont dans le parc (déjà construit cette fois). Tout est plus rapide de cette manière.
Rapidement tous les faons portent un collier, certains sont même déjà marqués à l'oreille.
Monday, June 27, 6 p.m.
Sms from Patrick: The reindeers will be gathered this evening. Departure from the helicopter aournd 8 p.m.
OK, it gives us an hour to fill in the thermos, take the boots, bring water to the 28 dogs and searching the route.
Tonight, heavy rains fallow the breeders in their work, even forcing the helicopter to take a break. But fortunately the wind chases the clouds and at 9 p.m. all reindeers are in the park (already built this time). Everything is faster this way.
Quickly all fawns wear a necklace, some are even already ear-tagged.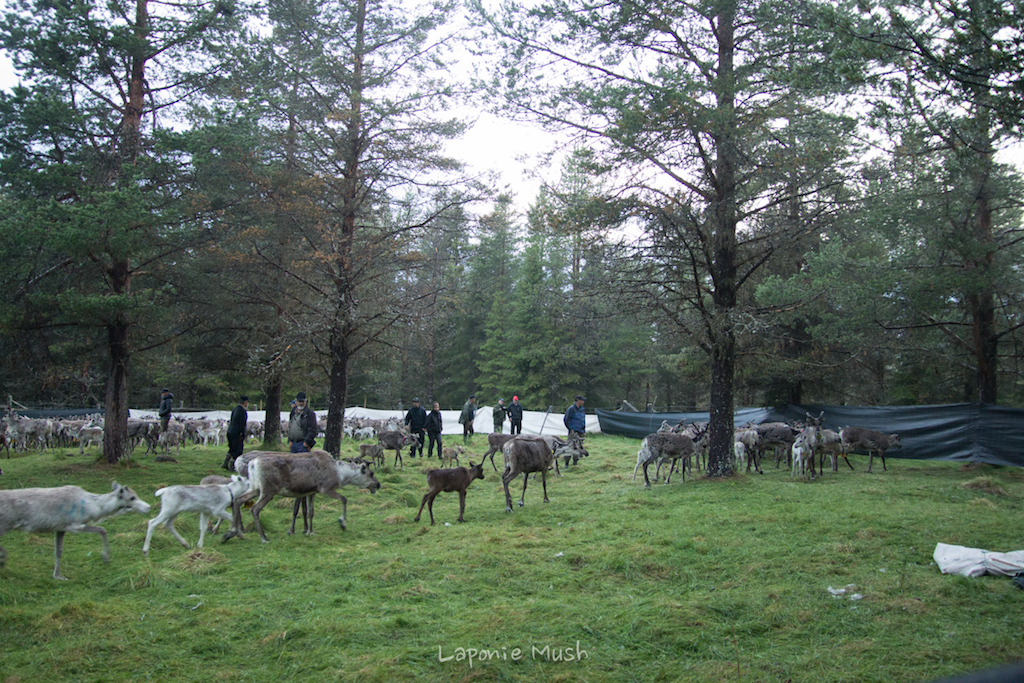 C'est l'heure de la pause.
Un chocolat chaud et moins d'une heure après nous suivons une petite équipe qui est chargée de noter le nom du propriétaire de chaque faon.
Tout d'abord noter le numéro du faon, repérer sa mère et selon la marque de ses oreilles noter le nom du propriétaire.
On se demande bien comment ils font, … question d'habitude.
It is time for break.
Hot chocolate and less than an hour after we follow a small team that is responsible for noting the name of the owner of each fawn.
Firs, note the calve number, find his mother and his ear-tag, note the owner's name.
We still wonder how they do …… matter of habit.
Etape finale : Le marquage
C'est maintenant le moment de marquer les faons.
On ressort les lassos et c'est repartit pour un tour.
A chaque jeune attrapé, son numéro est annoncé. La personne en charge de la liste, lui annonce en retour le nom du propriétaire. On amène alors le renne à l'éleveur concerné pour qu'il procède à la marque.
Les 2 oreilles sont marquées au couteau, d'une marque bien précise et bien distincte de sorte que même à quelques dizaines de mètre, elle est reconnaissable.
Le marquage est complètement indolore pour l'animal, et à en voir le calme dans lequel tout se déroule, nous n'en doutons pas.
Puis c'est enfin le moment de relâcher tout le troupeau. Les portes s'ouvrent et très vite le parc est vide.
C'est l'heure pour tout le monde de rentrer, car demain si la météo est bonne, ca recommence. Et cela devrait durer encore 2 semaines.
Final step: Marking
Now is the time to mark the calves.
Lassos are back and it is left for a tour.
Each caught calves, his number is announced. The person in charge of the list, announced in return the owner's name. It then brings the reindeer to the right owner, so he can proceed to the mark.
The 2 ears are marked by knife, a mark precise and distinct well so that even from a few tens of meters, it is recognizable.
The marking is completely painless for the animal, and to see the calm in which everything happens, we do not doubt.
Then it was finally time to release all the flock. The doors open and soon the park is empty.
It's time for everyone to go home, because tomorrow if the weather is good it started again.
The marking should last two weeks more.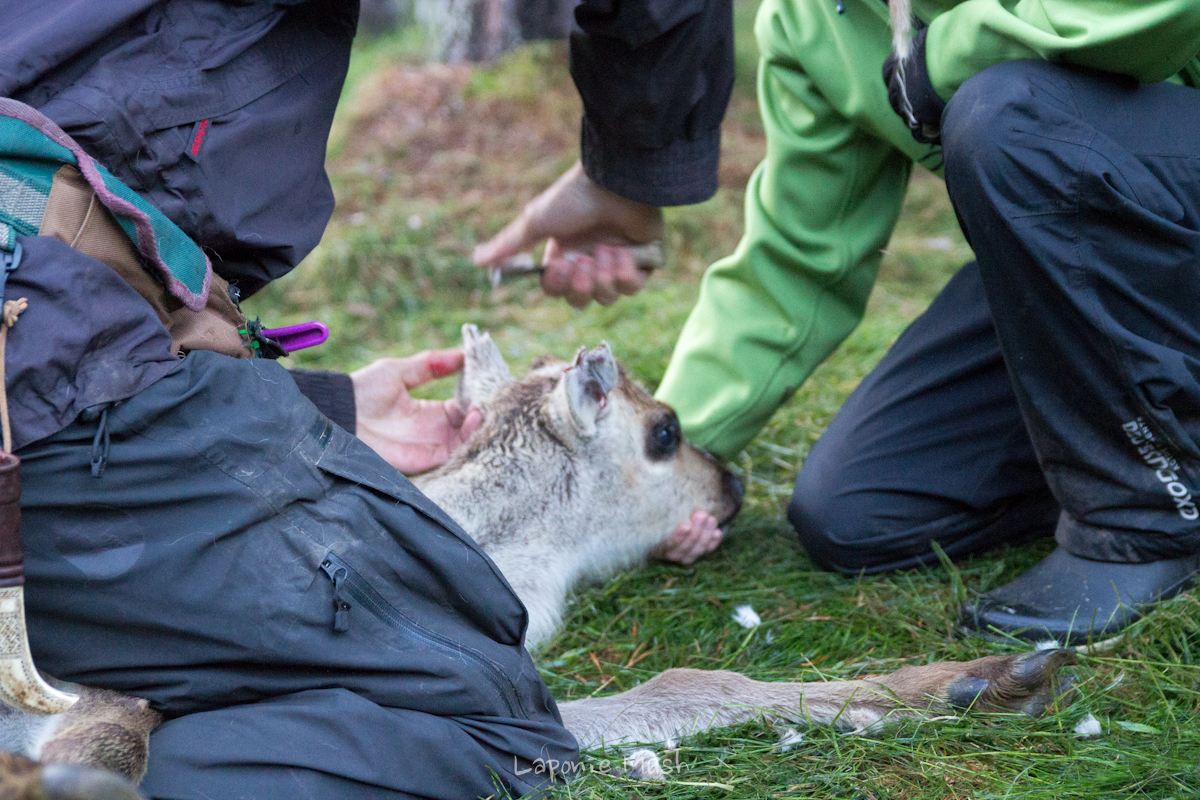 Seul le propriétaire peut effectuer la marque sur ses rennes.

Only the owner can make the mark on his reindeer.